Adherents of Jainism first arrived in the United Kingdom (UK) in the 19th century.
The UK, mainly England, has since become a center of the Jain diaspora.
Oshwal Association of the UK
Potters Bar Hertfordshire
The first Shikharbandhi Temple to be built on virgin land in Europe was consecrated in August 2005 at Potters Bar. Magnificient pratimaji's adorn the gabharo. Mul nayak is Mahavir Svami; on his left is Parshvanath and on his right is Adishvara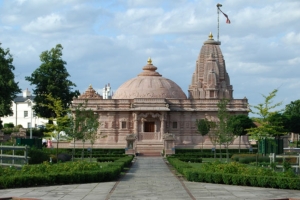 Potters Bar is about 15 miles N E of Central London.
Public transport not available to go up to the temple.
Please phone Oshwal Centre office on +44 (0)1707 643838 for directions.
Oshwal Association also has a Mahajan Wadi in Campbell / London Road, Croydon, South of London with a Ghar-Derasarji housed in the premises.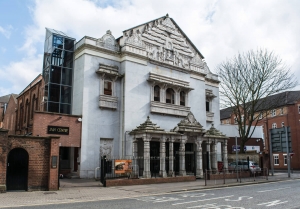 Jain Centre at Leicester
This town is 100 miles north of London and has a Jain Centre with a Shikharbaddha Derasarji. The first Jain centre in the world to cater for all Jain sects.
Tel 0116 254 1150
Mahavir Foundation at Kingsbury
Mahavir Foundation currently has a Ghar-Derasar in Kenton, Harrow area. This is very popular.The Mul-nayak is Mahavir Swami. The other murtis are:- Parshvanath Bhagvan, Aadinath Bhagvan, Manibhadra Dada and Padmavati Mataji. There is special area for the devotees of Shrimad Rajchandra.
Tel 020 8206 1659
Jain Centre Colindale
Jain Network was launched in London on 9th of March 2007 as a result of deliberation over series of meetings of the Trustees of Jain Sangha of Europe, Jain Academy, Ahimsa for Quality of Life, and Jain leaders, organisations and other communities.
The Jain Centre 64-68 Colindale Avenue, London NW9 5DR – Phone – 020 8200 0828
Digambar Temple at Harrow
There is a medium size but very beautiful Digambar Temple in Harrow. The main idol was consecrated in 2006. It has quotations from Digambar Shastras inscribed on the walls.
Jain Samaj Temple at Manchester
Jain Samaj Manchester has a large building for their social and cultural needs. There is a small but beautiful temple within this main building.
Kailash Giri Jain Temple at Hounslow
This temple known as Kailash Giri in London was established by Jain Mahila Sant Kumari Satyawati Ji
Sanatan Temple at Leeds
Leeds is some 300 miles from London. There is a Hindu temple here but a special small 'Jain Temple' has been housed in the same building.
A Jain temple or Derasar is the place of worship for Jains, the followers of Jainism.[1] Jain architecture is essentially restricted to temples and monasteries, and secular.
Jain buildings generally reflect the prevailing style of the place and time they were built.